Welcome!
Welcome to the beginning of another school year! We are so excited to begin the adventure with your children and look forward to getting to know all of you!
This year we will use Growth Mindset as a learning tool. We will learn about Growth Mindset through DOJO videos and classroom activities. Our goal is to encourage your child to believe that through dedication, perseverance, and hard work they can achieve anything. Our hope is that through this mindset we can focus more on learning and growth and less on "discipline" in the classroom.
Fixed vs. Growth:
* In a fixed mindset, people believe their basic qualities, like their intelligence or talent, are simply fixed traits. They spend their time documenting their intelligence or talent instead of developing them. They also believe that talent alone creates success—without effort.
* In a growth mindset, people believe that their most basic abilities can be developed through dedication and hard work—brains and talent are just the starting point. This view creates a love of learning and a resilience that is essential for great accomplishment. Virtually all great people have had these qualities.
Teaching a growth mindset creates motivation and productivity in the worlds of business, education, and sports. It enhances relationships.
Thank you for being a partner in your child's education. We cannot do anything without the support we receive from home!
DRESS CODE Guidelines: K through 6th
Tuesday and Thursday = school polo with uniform bottom
Monday, Wednesday and Friday = PE uniform: Navy or Burgundy Hope T-shirt with navy athletic shorts (mid-thigh or longer) and sneakers with traction on the soles. If non-PE bottoms are worn on Wednesday/Friday, then a belt must be worn and shirts (of any type) must be tucked in.
Special Events/Testing/Picture/etc. (all grade levels) = uniform school polo with uniform bottom
Friday is Spirit Day every week across campus so any Hope t-shirt may be worn as long as it is in good repair.
Click the link below to place an order from Scholastic to help us earn points to buy books for the classroom!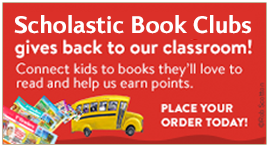 This site provides information using PDF, visit this link to download the Adobe Acrobat Reader DC software.